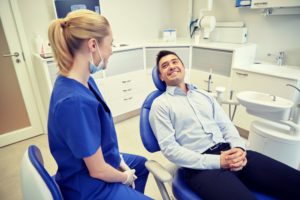 Going to the dentist might not be your favorite activity in the world. Whether it's due to financial concerns, anxiety, or just plain laziness, it's easy to find an excuse to not visit your dentist in Virginia Beach. However, the benefits of attending these appointments far outweigh your reasons for not going. Here are five reasons to schedule your appointment as soon as possible.
1. Get an Oral Cancer Screening
The vast majority of oral cancer patients do not live to see more than five years past their diagnosis. Scary, right? However, by catching this disease early at your next dental appointment, you and your dentist can work with the appropriate medical professional to devise a treatment plan to keep the cancer from becoming fatal.
2. Diagnose Tooth Decay
Next to the common cold, tooth decay, also known as cavities, is the most common disease in the world. Just because most of the population gets cavities, however, doesn't mean they're harmless. In fact, just the opposite is true. Tooth decay can start out as a fairly small hole in your enamel, but it can rapidly spread to the sensitive center portion of your tooth, resulting in extreme pain and warranting a root canal or even a tooth extraction. Save your teeth by getting cavities dealt with right away.
3. Treat Gum Disease
When food particles get stuck in between your teeth and around your gumline, it may cause a bacterial infection known as gum disease. This results in bleeding gums, chronic bad breath, and even loose teeth if you don't get it treated as soon as possible.
4. Prevent Tooth Loss
Gum disease and tooth decay are the main causes of tooth loss in the United States. Regular appointments with your family dentist in Virginia Beach can catch these problems before they become larger issues that compromise the structural integrity of your teeth.
5. Remove Stains
Besides just watching out for dental diseases, your dentist, or the dental hygienist, can give your pearly whites a professional cleaning. They can use special tools to clean areas of your mouth that your toothbrush and floss at home simply can't reach. Moreover, they'll polish your teeth with a special paste that will not only make your smile shine brighter, but will make it harder for plaque to stick to your teeth and cause gum disease and cavities.
Start the brand-new decade off on the right foot by scheduling an appointment with your dentist as soon as you can. Your teeth and gums will thank you!
About the Author
Dr. Vinita Folck graduated in 2004 from the University of Texas Health Science Center at San Antonio with her Doctor of Dental Surgery degree. Her professional affiliations include the American Dental Association, the Virginia Dental Association, the Texas Dental Association, the Academy of General Dentistry, and the Spear Study Club. She prides herself on being able to improve patients' lives by keeping their oral health in check. To schedule your next checkup and cleaning with a family dentist in Virginia Beach, you can contact Dr. Folck at (757) 499-9639.