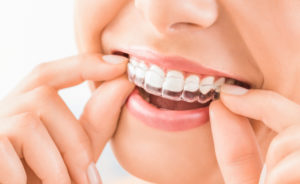 According to a survey conducted by the American Dental Association, 48% of adults say a smile is the most memorable feature after they meet someone for the first time. A confident smile can leave a lasting positive impression and help you get ahead in your career or even boost your chances of getting asked out on a date. However, if you have crooked teeth, a gap in your smile, or an over or underbite, it can be hard to find the confidence show off your smile to others. Fortunately, modern dentistry offers a solution to fix minor dental imperfections – without needing metal brackets and wires in your mouth. Here are answers to 4 common questions about Invisalign in Virginia Beach, the modern alternative to traditional braces.
How Long Do I Wear Aligners Every Day?
Invisalign treatment uses a series of clear, plastic aligners to gradually move teeth into the desired position. The custom-made aligners must be worn for 20 to 22 hours a day, or as directed by your dentist. No one will be watching over your shoulder, so it is up to you to follow your dentist's directions to straighten your smile carefully, comfortably, and on schedule.
How Long Does Treatment Take?
Every smile is unique, so treatment time can vary. However, most individuals achieve a straight smile with Invisalign clear braces in about 12 months. Being disciplined about wearing your aligners for the required number of hours per day will help ensure you complete your treatment on time. After Invisalign treatment is completed, some patients may need to wear a retainer at night to maintain the new position of their teeth.
Can I Brush Normally?
Invisalign aligners are easily removable, so you can – and should – continue to clean your teeth like normal. Practicing good oral hygiene is critical during Invisalign treatment – if you do not thoroughly brush your teeth and floss daily, bacteria and plaque could become trapped between your teeth and the aligners, leading to enamel erosion and tooth decay.
Are Invisalign Aligners Comfortable?
Conventional braces with metal brackets and wires can often cause discomfort or irritation. Invisalign aligners, on the other hand, are smooth and custom-designed to fit comfortably in your mouth.
You may feel a little discomfort when you trade one set of aligners for a new set – but this pressure is a good thing! It means the aligners are gently moving your teeth into the desired position. Any discomfort should be temporary and will subside as your mouth adjusts to the new aligners.
Boost your confidence, your career, and even your love life with a beautiful, straight smile thanks to Invisalign clear braces. If you still have questions about whether Invisalign is right for you, talk to a dentist in Virginia Beach today.
About the Author
Dr. Stephanie Santos has helped patients in Virginia Beach achieve the beautiful smiles of their dreams for over 13 years. The Virginia Commonwealth University graduate works to create detailed treatment plans for patients who choose to straighten their teeth with Invisalign clear braces. Patients ready for a more confident smile can visit the Smile by Design website or call Dr. Santos at 757-499-9639.