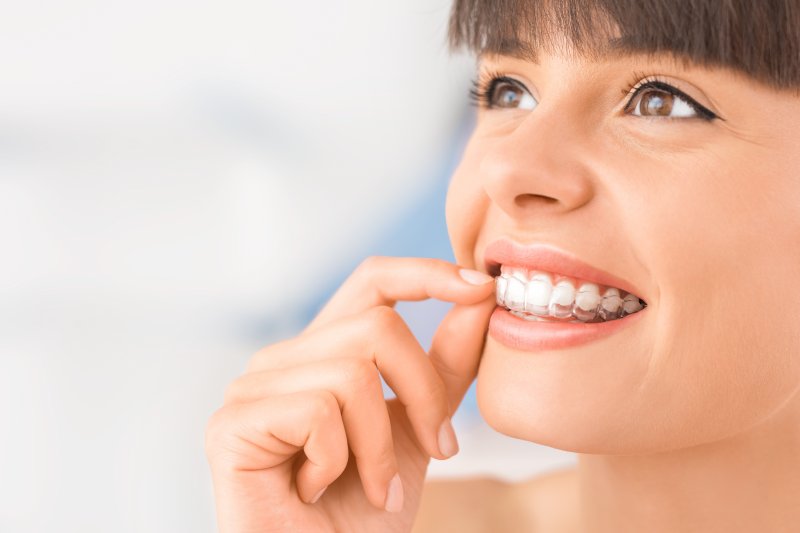 Let's face it; having gapped, crooked, crowded or misaligned teeth isn't your ideal way of living. Not only does it make it harder to carry out your normal functions of chewing and speaking, but it can also take a toll on your confidence. In times past, the only remedy was to be fitted with a set of metal braces. Thankfully, Invisalign in Virginia Beach offers a way to fix your teeth in a more enjoyable manner. As you continue reading, learn 3 reasons why you should choose Invisalign to correct your bite!
What are Invisalign Aligners?
A form of cosmetic braces, Invisalign aligners are designed to help adults and teens correct their bites without the usage of brackets and wires. In addition to the cosmetic benefits of the aligners being clear and discreet, there are other advantages of choosing Invisalign.
#1 – Lifestyle Maintenance
While traditional braces are highly-effective at correcting a host of bite issues, patients who undergo this type of treatment are forced to make some lifestyle changes. For starters, foods like chips, peanut butter and popcorn can't be eaten with braces. That's because they can cause such problems as dislodged brackets or broken wires.
Here are some basic rules that patients with braces have to take into account when it comes to food consumption:
Nothing hard
Nothing sticky
No big mouthfuls
No tearing things with your teeth
Since Invisalign aligners are removable, none of these factors apply. That makes a huge difference in the treatment process.
#2 – Normal Oral Hygiene
Another challenge that patients who wear traditional braces face is that they can't brush their teeth like they normally would. Additionally, they can't use the traditional type of dental floss. This presents a significant challenge given that one of the major issues facing Americans is periodontal (gum) disease, which flossing on a regular basis plays a major role in preventing.
Again, these are issues that don't come into play with Invisalign aligners. With the latter, you can perform your usual oral hygiene habits to ensure your teeth and gums remain healthy.
#3 – Shorter Treatment Time
One of the most attractive perks of Invisalign is that the treatment time is often shorter than that of traditional braces. The latter averages around 24 months, but with Invisalign, the treatment process can be as short as 10 months. Be mindful, though, that this time period is not etched in stone, because your dentist will first need to examine your bite to determine the severity of your malocclusion (bite issues). Then, a plan will be mapped out to meet your specific needs.
To find out if Invisalign is a good fit for you and how long your treatment will take, reach out to your dentist in Virginia Beach to schedule an initial visit. Soon, you'll discover that Invisalign has far more to offer than just a nice smile!
About the Author
Dr. Stephanie L. Santos earned her dental degree from Virginia Commonwealth University. She then went on to complete an Advanced Education in General Dentistry (AEGD) residency before starting her career as an Army dentist. Dr. Santos creates dream smiles with Invisalign treatment at Smile by Design, and she can be reached for more information through her website.