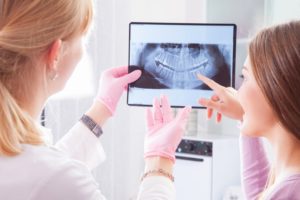 Last time you went to your checkup and cleaning with your dentist in Virginia Beach, you noticed gadgets you've never seen before around the office. When your dentist keeps up with the latest technological advancements in their field, they're able to take better care of your mouth. Learn about 3 tools that can improve your oral health and spot harmful oral problems by reading below.
Intraoral Camera
Dentists that use the latest technology most likely use intraoral cameras to give them a new view of your mouth. This tool is about the size of a pen and can effortlessly be maneuvered around your mouth to get a close-up high definition view of any trouble areas. While you're in the chair, you'll notice a monitor that allows you and your dentist to see those hard-to-reach nooks and crannies of your mouth. This allows your dentist to show and explain the state of your health or any problems that may need treating. They can also point out how their recommended treatment can improve your oral health, making your visit reliable, easy, and transparent.
Digital X-Rays
Have you visited a dentist's office that still uses clunky film-based X-ray machines that are inconvenient? Nowadays, professionals opt for digital X-rays instead because they're safer for their patients. They emit 90% less radiation than film X-rays and can be taken by just placing a small sensor in your mouth. If you visit your dentist for your routine checkup and cleaning, they may decide it's necessary to get an X-ray in order to make sure there's nothing hiding under the surface.
Some problems that can be spotted using digital X-rays include tumors, cysts, bone deterioration, and wisdom teeth. Plus, since the image produced by these advanced machines is much clearer and doesn't require toxic chemicals to be developed, your appointment will be faster. Your dentist will also be able to make out more of your mouth with the high definition image.
Soft Tissue Laser
Thanks to this compact and effective tool, any treatments that involves altering your gums can be more comfortable, faster, and more precise. This laser's concentrated beam of light can kill hidden bacteria below your gum line and painlessly remove infected tissue without impacting surrounding areas of your mouth. Not to mention, you can enjoy less post-treatment bleeding, swelling, and pain. Your healing time will be short, brief, and significantly less uncomfortable when your dentist utilizes soft tissue lasers.
New discoveries are made every day, which is why choosing a dental professional that uses the most advanced treatments and technology is the best decision for your oral health. Plus, these tools not only make your visit faster but also safer!
About the Author
Dr. Stephanie Santos loves helping her patients feel comfortable and relaxed by giving them compassionate high-quality dental care. She strives to go above and beyond for her patients and makes sure that they receive the individualized trustworthy treatment they deserve. For over 13 years, she has owned and run Smile by Design and believes that learning should never stop, which is why she is an active member of multiple professional organizations. For questions or to schedule a visit, visit her website or contact 757-499-9639.