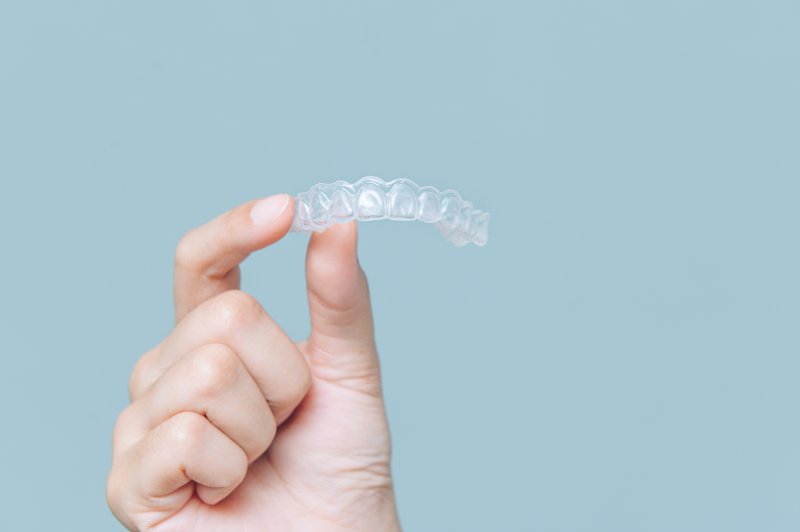 The benefits of orthodontics are numerous. You'll have a better bite, a boost in your confidence, and improved overall health if your teeth are properly aligned. Traditional braces and Invisalign are both very popular methods of straightening your teeth, but many people prefer clear aligners because they don't have to worry about the aesthetics of metal brackets and wires. However, Invisalign actually has several other advantages to offer that have nothing to do with how it looks on your teeth. Here are 3 benefits of Invisalign unrelated to appearance.
1. Aligners Aren't Bonded to Your Teeth
Unlike traditional braces, Invisalign is not semi-permanently bonded to your teeth. Over the course of your treatment, you'll be given a series of removable clear aligners that gradually straighten and shift your teeth. This means you are free to take them off and put them on at your own convenience. As a result, you'll be able to eat whatever you want with Invisalign. Simply remove them before eating, and the world's your oyster!
2. Orthodontics Without the Discomfort
Invisalign requires far fewer check-in appointments than traditional braces, meaning you won't have to make as many trips to the dentist. This can be especially beneficial to anyone who struggles with dental anxiety or even just feels uncomfortable with the idea of someone poking around in their mouth.
Invisalign also provides greater comfort for your teeth, gums, and tongue. That's because the aligners are custom-made from smooth plastic and gradually and gently move your teeth into the proper position. You'll be wearing them for about 20 to 22 hours each day, so before you know it, you won't even feel that they're there!
3. Keeping Your Teeth Clean Is Easy
Since your Invisalign is removable, the maintenance and cleaning of both your teeth and aligners is significantly easier than that of traditional braces. With braces, you would have to meticulously clean around your brackets and wires. You might even have to have additional hygiene tools, like an interdental cleaner.
Invisalign requires no extra products for cleaning your teeth. You'll be able to follow your usual oral hygiene routine!
About the Practice
At Smile by Design of Virginia Beach, we offer state-of-the-art dental technology to get you the smile you've always wanted for years to come. The practice offers a variety of cosmetic dentistry services, such as Zoom! teeth whitening, veneers, dental bonding, and Invisalign. If you're ready to enhance your smile and start your Invisalign journey, you can contact the Smile by Design of Virginia Beach team at their website or by phone at (757) 499-9639.