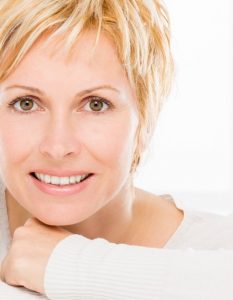 Why do patients and dentists alike praise dental implants, today's innovative tooth replacements in Virginia Beach and across the globe? Stephanie L. Santos DDS and Vinita John Folck DDS recommend dental implants for people missing one, two or even entire arches of teeth because implants are realistic-looking, stable and preserve the density of the jaw bone. Healthy adults with sufficient bone are good implant candidates. Here are the reasons why these artificial teeth work so well.
They Replace the Entire Tooth
When an individual loses even one tooth, he or she loses a lot. When a tooth is deteriorates and is extracted due to decay, injury or gum disease, its socket is left completely empty–no root, no connective tissue, and no crown. Unfortunately, the supporting bone and gum tissue rapidly deteriorate as well.
A dental implant is composed of three distinct parts: a titanium screw, a metal extension post and a realistic porcelain crown. In other words, an implant is a true artificial tooth, and while the supporting periodontal ligament cannot be replaced, the bone and gum tissue naturally regenerate. The process of bone regeneration is called osseointegration, and it's the secret behind the stable retention and longevity of almost all dental implants. As a person bites and chews on a fully restored dental implant, the jaw bone is effectively exercised.
The Treatment is Simple
Dr. Santos or Dr. Folck examines the patient who is interested in receiving a dental implant. She visually inspects for any oral health problems such as decay or gum disease. She also takes digital X-rays and other imaging as necessary to determine if the individual has enough bone to receive the implant device. If he or she does, the doctor refers the patient to a trusted area oral surgeon for placement of the implant screw.
The oral surgeon numbs the area to receive the implant, incises the gums and drills a very small hole into the jaw bone. He or she inserts the titanium screw and closes the gums with sutures.
After several weeks of healing and that all-important osseointegration, the patient returns to Smile by Design for restoration of the implant.
Dr. Santos or Dr. Folck bonds a metal extension post and custom-fabricated porcelain crown onto the implant screw. She adjusts the bite as needed, and the tooth replacement is complete.
Implants Work Best with Good After Care
Frankly, caring for a dental implant is simple, too. Patients just brush and floss as usual to remove harmful plaque. They must keep current with their routine exams and hygienic cleanings at Smile by Design. The dentists encourage patients who smoke to quit as the toxins in cigarettes encourage an infection called peri-implantitis. This infection resembles periodontal disease, complete with its gum inflammation and bone recession. While implant removal is uncommon, peri-implantitis may necessitate it.
Dental Implants are Versatile
Implants can replace one, two or more teeth. They can anchor fixed bridgework or support partial or full dentures. The full dentures may be removable or fixed. Your dentist can tell you what will work best for your oral health.
Additionally, dental implants avoid the difficult problems associated with traditional tooth replacements–things such as:
Denture slippage, slurred speech and problems with eating
Bone and gum recession
Repeated need for replacement (typically, traditional bridges and dentures last seven to ten years)
When a patient receives a dental implant or implant-supported device, he or she can expect to have it for decades.
Do You Have Questions?
Contact Smile by Design for a dental implant consultation. Bring your questions because the doctors and staff will be happy to answer them and give you a fuller picture of this amazing tooth replacement option.