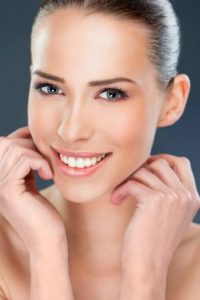 If a picture can say a thousand words, shouldn't your picture say something great? If you're hiding a crooked or gapped smile, your pictures may be sending the wrong message. Whatever reason you have for hiding your smile, the amazing Smile by Design teeth can help you get the smile you've always wanted. Stop hiding your smile irregularities, and start smiling with confidence today. Call our convenient Virginia Beach, VA office to schedule an appointment.
Cosmetic Dentistry Virginia Beach
When you here cosmetic dentistry does it bring to mind the glossy magazine smiles or movie star grins you've always wanted? Do you cover your mouth when you smile, laugh or talk even with friends and family? At Smile by Design, our name says it all. Dr. Stephanie Santos and Dr. Vinita John Folck are experienced cosmetic dentists who offer a wide array of dental treatment options to make any smile beautiful. Whatever reason you have for wanting to make a change, we can help you design a picture-perfect smile that will help you look and feel your very best. Our full line of cosmetic dentistry services include:
Teeth Whitening – Like many dental offices we offer the powerful Zoom! whitening treatments. In just over an hour, your teeth will be up to 10 shades brighter. Zoom! whitening with proper maintenance can last for years, and we will offer you at-home touch up treatments with custom fitted application trays to ensure a long lasting radiant smile.
Porcelain Veneers – If you want a minimally invasive way to restore your smile, porcelain veneers are a great way to cover cracked, missing, discolored, or irregular spaced teeth. Veneers are especially useful for patients who are not healthy enough for extensive restoration.
Invisalign – Patients who didn't have braces when they were young adults and don't want to wear a mouth full of metal to their next staff meeting, often just accept that they'll have smile irregularities forever. Invisalign clear braces offer a faster way to straighten your bite alignment, and thanks to the clear alignment trays, no one needs to know.
Tooth Colored Crowns and Fillings – When your tooth is damaged by trauma or decay, the last thing you want is unsightly amalgam fillings and crowns. While your smile function is restored, it certainly doesn't look much better. At Smile by Design we offer tooth colored fillings and crowns to restore the esthetics of your smile as well as the form of your tooth, and our CEREC same day crowns make it quick and easy to put a smile back on your face.
Makeover Your Smile
If you have extensive dental trauma, missing teeth, or tooth decay, you may want to receive multiple treatments to restore the natural beauty of your smile. Dr.s Santos and Folck will work with you to design a smile makeover plan that will give you the results you want in your budget, on your schedule. Don't spend one more day hiding your smile. Let Smile by Design give you a reason to smile today.
Contact Your Virginia Beach Dentists
Whether you have crooked, cracked or missing teeth, or just want to whiten your teeth for a radiant smile, Smile by Design is here to help you achieve the smile of you dreams. Don't accept the smile you have, let us give you the smile you want. Call to schedule a cosmetic dentistry consultation today. Our outstanding cosmetic dentistry services are available to patients in Virginia Beach, Northeast Virginia Beach, Fort Story, Sand Bridge and beyond.