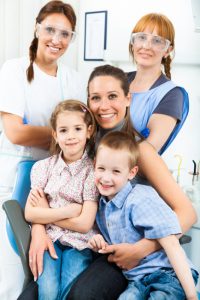 When it comes to choosing a dentist to care for your family, you need to choose a family dentist in Virginia Beach who will care for your entire family from one office. Often, not all dentists are able to offer the services each member in your family needs because everyone has unique oral health needs, which will change over the years. As a result, you end up having to schedule appointments with different dentists all over town. This makes dental appointments inconvenient and rather impersonal. However, by choosing the right dentist, each member in your family will benefit from one trusted dentist over the years to create a lifetime of beautiful, healthy smiles.

Diversity of Dental Services
Each member of your family has unique oral health needs. Those needs are going to change over the years. The dentist you choose needs to be able to accommodate those needs as they continue to change. You need a dentist who offers a diversity of services to provide the exact care needed for each family member. As a result, you will save a lot of time, headache, and hassle down the road because you will not have to be referred to separate dental offices.
When looking for a family dentist, choose one who offers children's dentistry to care for the needs of the young members in your family. With children's dentistry, the dentist is able to cater to the unique oral health needs of children in a caring and comfortable manor to ensure proper oral health development.
You also need a dentist who provides complete family dentistry services to care for the entire family—from teens to the elderly. Family dentistry services will include the restorative, orthodontic, and even cosmetic procedures necessary to ensure your family's smiles remain healthy and beautiful. The perfect dentist will also offer certain areas of specialty, such as periodontal therapy, to cater to the elderly or those who have advanced oral health needs.
Choose a Dentist You Can Trust
Our team of dentists at Smile by Design have been trusted and recognized family dentists in the area for many years. With the expertise and qualifications of Dr. Stephanie L Santos and Dr. Vinita John Folck, your family will benefit from complete comprehensive dental care. Their combined experience and training in a number of dental specialties, including dental surgery, and their professional accreditations with dental organizations and societies allow them to deliver the care your family needs.
As mothers and wives, our dentists understand the importance of family. As a result, they strive to treat your family as their own while they help to promote the health and beauty of your family's smiles. Together, they offer the comfortable and personalized care your family needs to feel welcomed and relaxed when visiting our office.
If you are in need of a new family dentist, take the time to find a dentist who will not only meet your family's needs today, but tomorrow as well. Contact our office to schedule an appointment.