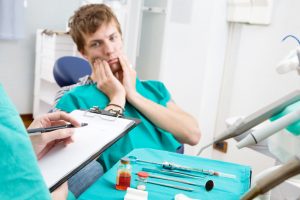 If there's one thing we know from our years of experience in dentistry, it's this: you actually can plan for the unexpected — at least when it comes to dental emergencies. And with the holiday season upon us, we think it's a good time to help you be a little more prepared for all the things that could go awry with teeth when the family comes together — playing football outside, chomping down on peanut brittle and everything else that puts our healthy smiles in harm's way. Help prepare for the unplanned by keeping these tips from the emergency dentist in Virginia Beach in mind.
Keep Calm: Tips From Your Emergency Dentist in Virginia Beach, VA
#1. Don't panic
It's the same as with any urgent situation — when something goes wrong with the oral health of yourself or someone you love, the most important thing to remember is to stay calm. Not only will panicking not help, but it could actually make the situation worse.
#2. Call the emergency dentist immediately
You should call your emergency dentist in Virginia Beach as soon as an urgent situation pops up. Help yourself prepare by storing our number in your phone, or keeping it displayed prominently in your home.
#3. Take the next emergency steps
Depending on the specific situation, there are a few steps you should remember to keep in mind in order to help everything go as smoothly as possible. For a knocked out tooth, find the missing tooth and rinse it off, being careful to hold it by the crown — never the roots. Store the tooth in its empty socket if possible, or a glass of milk if not.
#4. Stop or suppress the bleeding
If serious bleeding is present after a laceration to the soft tissues of the mouth, call the emergency room immediately. You can suppress minor bleeding by applying firm pressure with a clean gauze. Never take Tylenol or aspirin for pain, as these are anticoagulants which can prevent the blood from clotting.
#5. Manage the pain
If a severe toothache or other injury are causing serious pain, you can help to manage the discomfort by taking an over-the-counter medication like Aleve or Advil. Additionally, applying an ice pack in 15-minute intervals can help to reduce swelling and increase comfort for an oral injury.
Your Emergency Dentist Is On The Case This Holiday Season
Smile by Design wants to wish you and your family the very best this holiday season — but we also want you to know that if something does go wrong, you can trust us to provide the urgent care you and your family need. Dental emergencies happen. Help prepare your family by saving our number in your phone: (757) 394-8233.