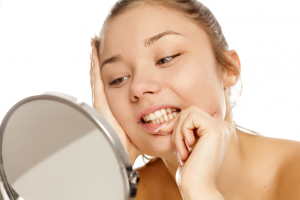 Veneers provide a great investment when choosing them to improve the appearance of your smile. By attaching the thin shells to the front surfaces of your teeth, you can cover an array of imperfections, like chips, cracks, and minor alignment issues. Often, many choose to visit their dentist in Virginia Beach to use them to hide dark tooth discoloration. They will instantly make your teeth appear whiter; however, over time, you may notice that they are losing their vibrancy. As a result, you may wonder if you can whiten them to restore their brightness? To help protect your investment, we have the information that you need.

Can I Whiten My Veneers?
With more than one-third of adults dissatisfied with how their teeth look, many are turning to their cosmetic dentist in Virginia Beach for veneers. They are a simple and effective way to achieve noticeable, lasting results.
Now, many veneers are made from porcelain because it allows them to be thinner so less of the tooth's structure is removed during the bonding process. Not to mention, it closely mimics the appearance of enamel to create natural-looking results; however, porcelain provides another benefit as well. It is stain-resistant, so they should not become stained or discolored. As a result, your smile will stay bright.
Although porcelain will not stain, veneers that are made from composite resin can become discolored. While it may not occur as easily as with your enamel, it can change color over time. Surface stains can develop due to prolonged exposure to darkly pigmented foods and drinks, such as coffee, berries, and red wine. In addition, tobacco can also cause them to turn yellow or brown.
If this occurs, it is tempting to try an over-the-counter whitening kit to restore their appearance, but your efforts will be ineffective. Composite resin cannot be whitened, but that does not mean that you are out of options. Your dentist can help to improve their appearance with a good cleaning. In some cases, they may recommend that you have them replaced if the discoloration is too severe. Generally, they will need to be replaced anyway about every 5 to 7 years if they are made from composite resin.
How Can I Keep My Veneers White?
To help promote the appearance and longevity of your veneers, it is best to care for them properly—no matter if they are made from porcelain or composite resin. To prevent staining, brush your teeth twice per day and floss nightly. When caring for your smile, it is best to use nonabrasive products to prevent scratches from developing on their surface.
In addition to your home oral hygiene habits, do not forget to visit your dentist twice a year for a cleaning and checkup. It is also best to avoid any factors that can cause staining, like tobacco and dark foods and drinks
Get a Beautiful Smile Today
If your veneers have become discolored, contact your cosmetic dentist today to discuss how you can restore their appearance.
About Smile by Design
At Smile by Design, we strive to give you a reason to smile. In addition to general dentistry, we also offer cosmetic services to improve the health and appearance of your teeth. If you are interested in veneers or need to have them replaced, contact our office today to schedule a consultation.