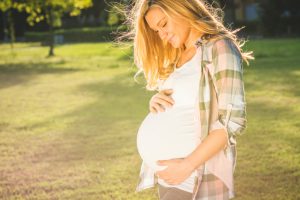 Having a child is a life-changing moment. During pregnancy, there are a lot of things to think about. "How am I going to decorate the baby's room?", "How big should the crib be?", "How many bibs do I need to buy?" – all of these are common questions that new parents ask themselves. A to-do list can become overwhelming during a pregnancy which can often lead to stress. Stress is the last thing you should be worrying about during a pregnancy. This is a happy time for you and your future family.
One item that should be on your to-do list is a dental checkup at our office in Virginia Beach, VA. The link between your oral health and overall health is strong. If you're experiencing dental issues that have gone untreated, it can complicate how the rest of your health operates. This is bad news for you and your bundle of joy. Keeping your mouth healthy will in turn keep your overall health operating smoothly. Our dental team can provide a comfortable and relaxing environment for our mothers-to-be. If you're looking for the best family dentists, Virginia Beach knows who to turn to; Dr. Santos and Dr. Folck.

Prenatal Dental Care Is Essential For You And Your Baby
When you visit our office, it's more about prevention and maintenance rather than treatment. We will thoroughly check your mouth and teeth to ensure they're healthy throughout your pregnancy. If this isn't your first pregnancy, you're well aware of the side effects. If this is your first pregnancy, don't be surprised to experience the following:
Inflammation of the gums. Typically felt during the second trimester, your gums are capable of swelling and feeling more tender than usual. Don't be shocked if your they bleed easier when brushing and flossing. 
Gum disease that's gone undiagnosed. Pregnancy doesn't cause gum disease, but it can be heightened by gingivitis that has yet to be treated.
Pregnancy tumors. Typically discovered during the second trimester, these overgrowths of tissue are found on the gums. They aren't cancerous, but they can bleed very easily and have a raspberry-like look about them. They often disappear once you've welcomed your little one to the world.
Practicing good dental hygiene is also very good for your baby. Remember to brush and floss twice a day while eating foods that won't leave your teeth in bad shape. Stay away from sugary goodies and instead chow down on veggies or a healthy alternative.
Schedule Your Checkup With Us Today
We want you and your baby's health to be excellent throughout this wonderful time of your life. Taking care of your teeth is essential during a pregnancy, and our dental team would be more than happy to treat you. Our Virginia Beach, VA dental office is ready to welcome you with open arms. Dr. Santos and Dr. Folck are the dentists Virginia Beach can trust.